PROMOTING THE PERFECT SLIDE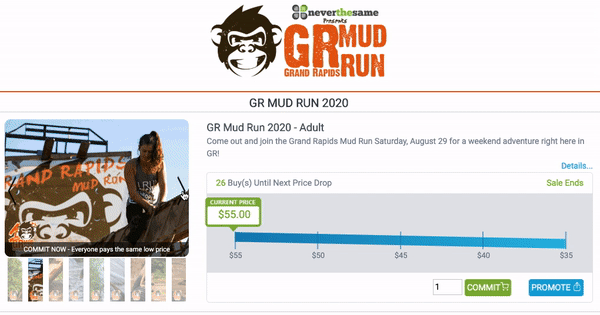 Use Price Slide to launch a promotion. Works great with gift cards, season passes, events, and much more.
Pick a promotion to slide that you will have a core family of customers. Price Slide works best at the front of a promotion when your launching something.
Once you have picked a promotion, time frame and built a slide for it…. marketing your slide is simple.

Common Price Slide Marketing Verbiage
$50 gift card for as low as $29!

Commit, Share and SLIDE!

Watch your price drop the more people buy!

Together… Everyone pays the same Low Price!

Congratulations YOU have gotten the price down to ….. KEEP IT GOING!n

The Basics…
Website:  Create a button on your organization's HomePage with the add for the promotion.
(Embed bit.ly link provided to you from Price Slide)
E-Mail: Create a typical E-blast announcing your promotion – call to action is to your Price Slide Page – Sending out a couple extra e-mails than normal is ok with Price Slide bc. Your customers are interested in the price dropping.

*ALSO very important to Email your list is Customers that are "Sliding" You can E-mail almost everyday of your campaign as long as your price is dropping . The open rate for people on the slide is 60-80%! Keep them updated and encourage them to share!

MArketing Basics…
Texting:  This is also an incredible was to keep you audience engaged – make sure its a list of customers that you know will be interested and keep them up to date when the slide goes down. (Think like watching the stock market – people like to get updates when it moves. As always include short link to your Price Slide Page.

Create Social Posts and adds: Call to action is to your Price slide Page – simply keep them updated on THEIR progress to get the Price Lower.

Internet Adds: If you you utilize these during normal promotions, then do it for your Price Slide Promo as well. The easiest message is, "as low as…"